Tiny Houses
Cascade Creek
87 sqm holiday cabin /63sqm down stairs, 23sqm up/. Features log roof system, log floor joists, loft, conventional entry, french doors. Clever design done by one of our architects. Set in native bush, this holiday cabin has been designed by one of our architects. Clever design features log roof system, log floor joists, loft, conventional entry area, french doors, …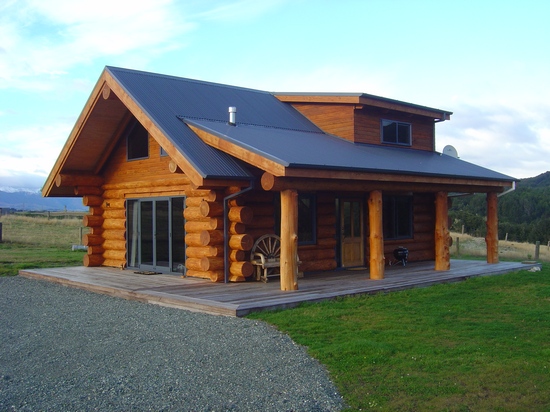 Te-Anau B&B
Cozy Bed & Breakfast cabin. We are modeling our own cabin on this little gem, 55sqm main floor, loft 21 sqm.
Loburn
Picture above shows log cabin with an extention. Can you tell which part is original and which part is extention? January 2012.
Clearwater, Ohau, Alpine Village
3 french doors and plenty of indoor-outdoor flow for the mountain views. Main floor is 73 sq m, with one bedroom, open plan kitchen-dining-lounge, and laundry-bathroom. First floor loft is 35 sq m with 2 bedrooms. Total 107 sq meters of living space. Mountain living at its best.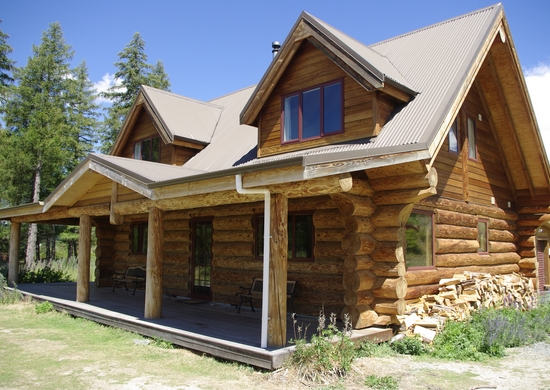 Homebush,Lake Ohau Village, near Twizel
Our exclusive "Homebush" model log home shell, delivered and assembled in November 2005 to a lovely and large section in Ohau Village. That's Lake Ohau and Ben Ohau in the photo.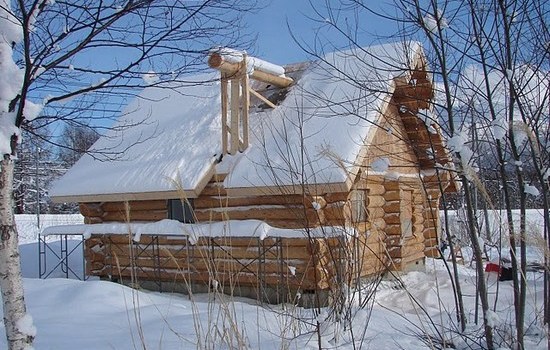 Hokkaido, Japan
Check out the snow depth in these pictures, 95 sq. m., 2 storied ski cabin. NLH build the log shell here in New Zealand, then carefuly loaded all the logs in to a container a shipped to Japan. One of NLH staff, with help of 2 Japanese builders, reassembled the cabin on site in 3 days.
Colorado, USA
One of the 13 log homes we successfully shipped to USA.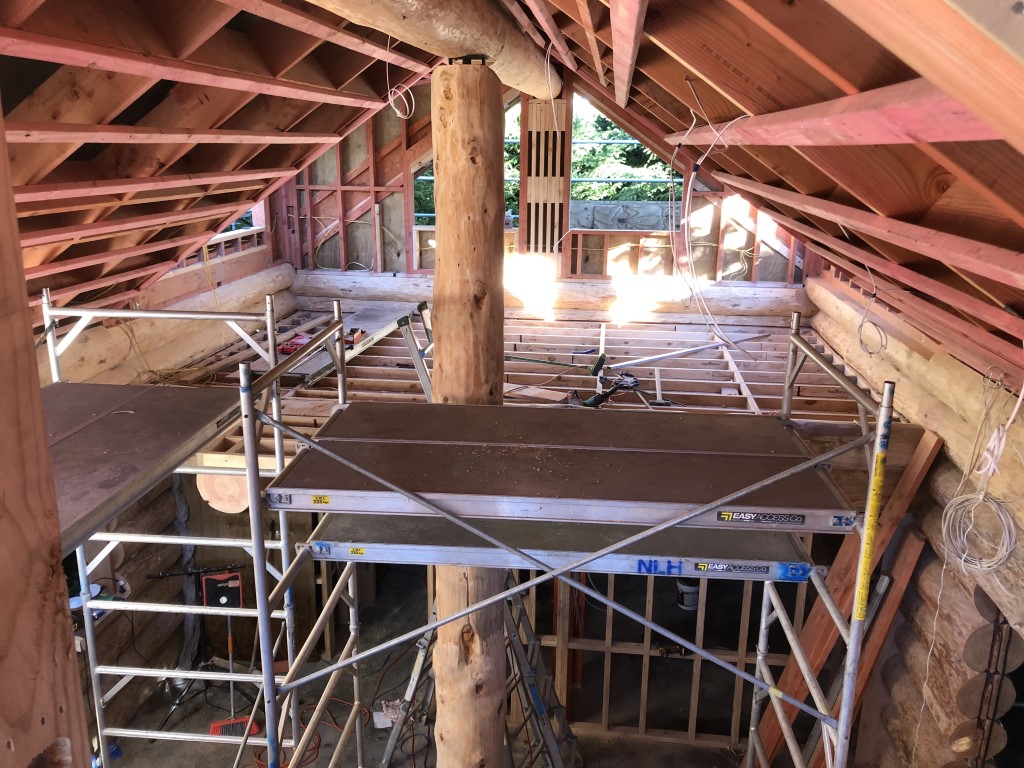 Fantail Cabin, Twizel McKenzie Country, Girls can do anything
Fantail Cabin Twizel, our newest addition, 58 sq meters down 24 sqm up, 4 post log veranda, set in beautiful Douglas fir trees, two big shed dormers to optimize space upstairs, and a fantastic log center post. This cabin has been a fantastic journey for Christine who attended a log building course so she could work on building her own Log cabin, she peeled logs ,she selected each for the walls, she scribed and cut logs, the roof is now on and the door and windows soon. Watch this space. All done, carpet is down, we have stayed some nights and love it, warm cozy with a modern appeal,
More images of the Fantail Log Cabin finished
Natural Log homes Log Office
yes we do have a log office at our construction yard right here in Geraldine, you are welcome any time, This is probably the log building hub of the southern hemisphere, its a place where customers can sit and meet with a log home architect, you can grab a coffee and browse the log home plan books, and tons of other log home books. I have pictures of every home we have built, and tons of photos of interiors of log homes, and all of the specific style types, roof types, interior styles etc, that you can choose for your log home. It is the class room for the numerous log home building courses I teach. And its the pulse center for Natural log homes, where you'll sometimes find Christine at the desk.
Tack rooms, for horse lovers
Ive now built two log tack rooms, we can add an awesome feature to the outside corners of tack rooms where we purposely extend a lower wall log out to take one or two saddles, believe me I know its great to just slide that saddle off to a convenient saddle stand, (we make these also)
Log church
Yes we have built one of the tiniest log churches in the world, under 10 sq meters so does not require building consent, this amazing place of worship is warm and strong.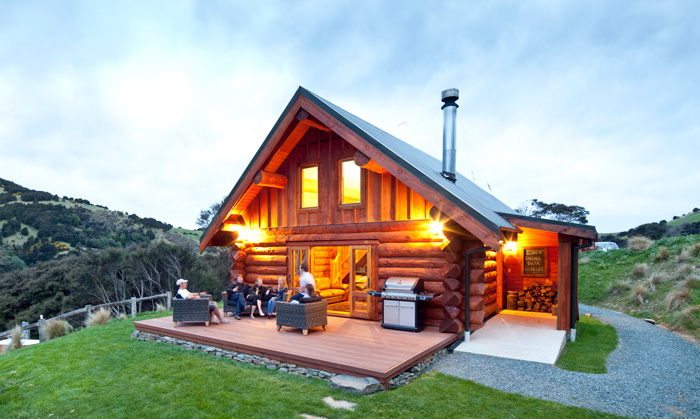 Clearwater
Let me explain, all of the log homes pictures here have started from the same basic log home plan of the Clearwater design, each log cabin is slightly different as each customer is different, folk have taken this plan and either stretched it out, or shrunk it down, or added an entry way, or add a roof dormer window or a skylight etc, Even the internal walls can be changed around to suit what you wish to have, Log internal walls can be added for effect also, Our customers have custom suited this plan to their own needs, location, views, etc. We have built many of these Clear water style of Log homes now and our customers love them. Jess Paterson Architect can custom draw your plan to suit you.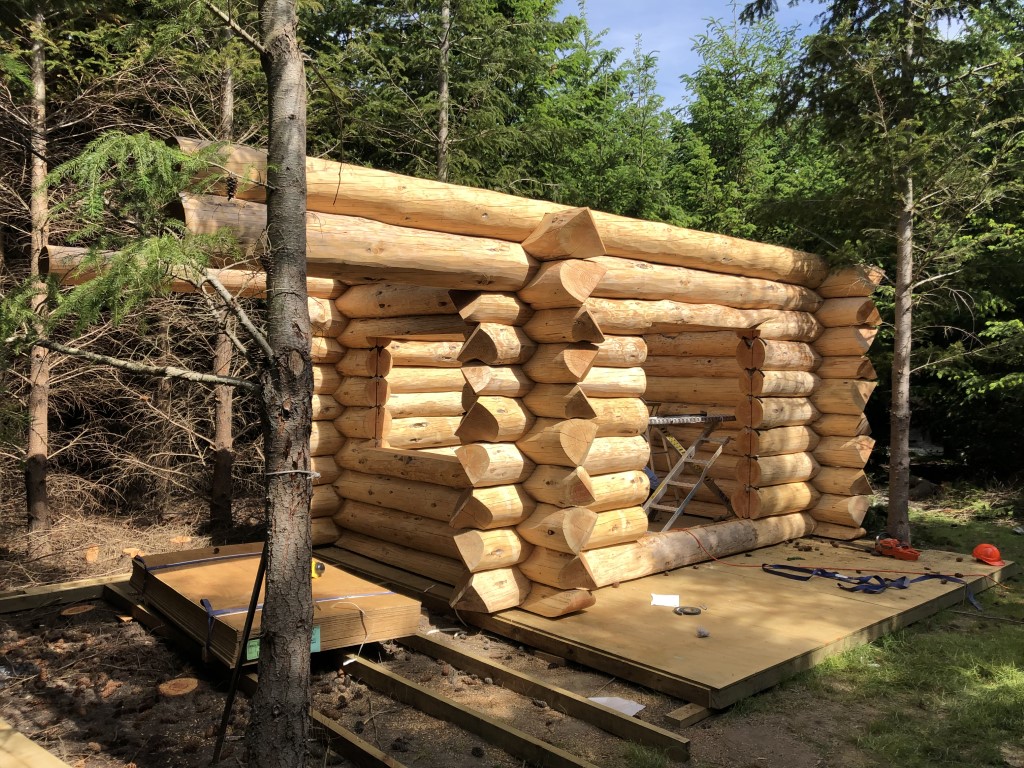 Studio, Bunk Room,Log Bar, office, Hunting fishing Cabin, site shed, work room, bedroom, Camp kitchen
Yes I have one of these for sale right now, under 10 sq meters so does not require building consent, email or call me regards Graeme, Our latest tiny home Under 10 sq meters so no permit required, check with your own council on their regulations, half built buy the 2019 log building course students, this build is ideal for all of the above mentioned, and with a mono pitch roof (keep watching) its as cute as.